What are the Advantages of Aircraft Maintenance Training?
Aviation will not be complete without the hardworking crew of aircraft mechanics, the unsung heroes of everyday flight operations. Aircraft maintenance is an exciting field. However, aircraft mechanics and avionics technicians undergo extensive training to acquire licenses that will deem them ready for the aviation world. If you dream of becoming one someday, it is important to have maintenance training and expose yourself to diverse learning opportunities, which will definitely help you achieve your dream. So if you are up to the challenge, let's delve into the advantages of aircraft maintenance training and explore where you can start your journey.
Skills Enhancement
Having aircraft maintenance training is a significant asset, as it equips individuals with valuable skills and knowledge. This training serves as a platform for trainees to deepen their understanding and knowledge of aircraft maintenance practices and gain new insights. This comprehensive training will definitely add value to an individual aspiring to enter this field.
Increase Industry Awareness
With aircraft maintenance training, you will get first-hand experience working with real airplanes. Fully operational, airworthy, and ready-to-fly airplanes are within your grasp, providing an environment that allows you to gain hands-on experience. As you immerse yourself in and witness actual flight operations through training, you will discover the real practices and culture of this industry. Exposure to actual tools, engines, machines, and procedures will heighten your awareness and keep you updated with the latest industry trends.

Build Networks
Another significant advantage of undergoing maintenance training is the opportunity to learn from seasoned aircraft mechanics who have years of experience in the industry. These experts will serve as your mentors, providing guidance and knowledge. This is also where you can get the opportunity to meet like-minded individuals with the same passion for aircraft maintenance and aviation. Join the community and connect with colleagues to discuss best practices and expand your knowledge and network in this industry. Explore the world of aircraft maintenance training, where you may develop your skills and join a community that will support you on your way to a successful profession in aviation.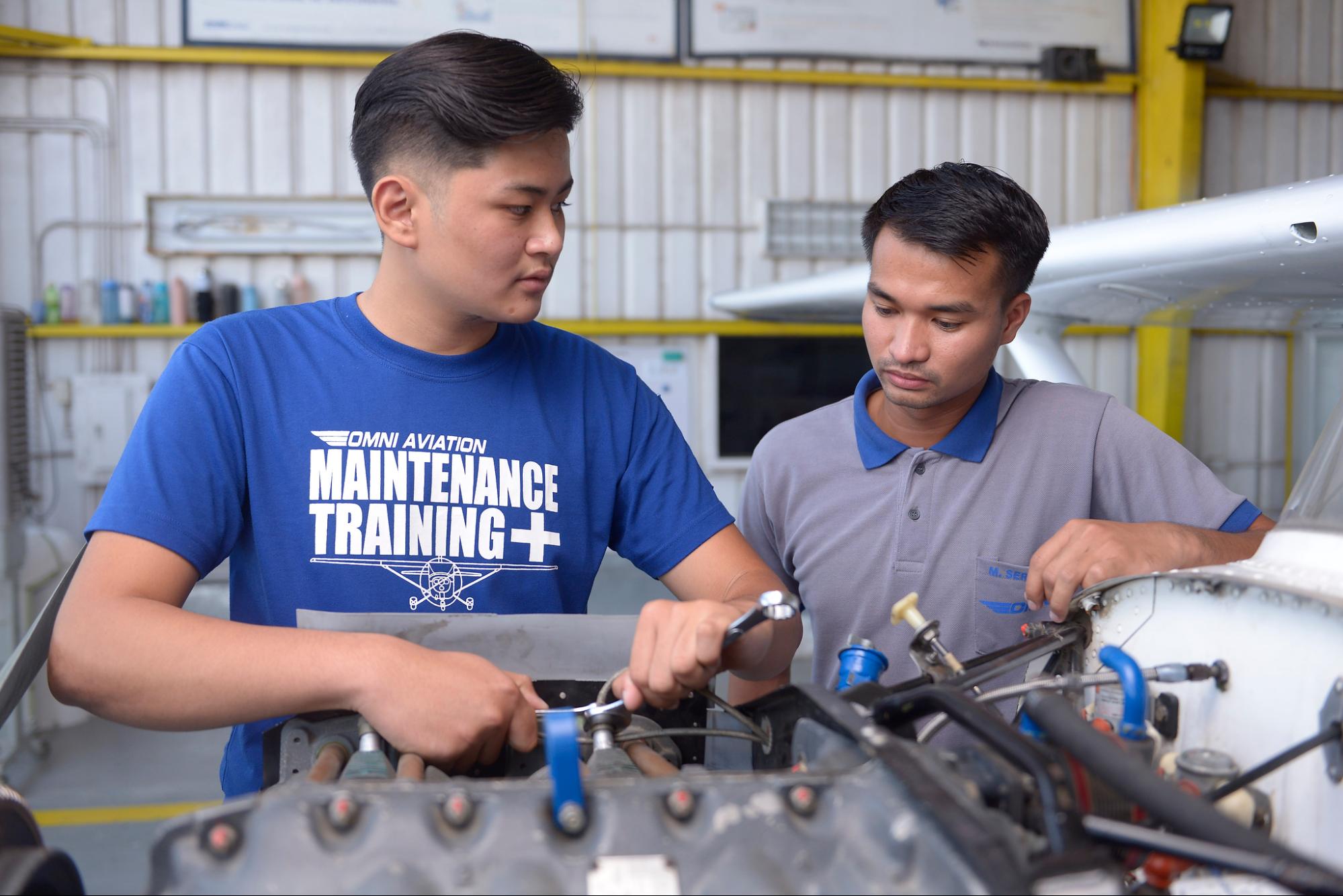 At OMNI Aviation, we offer maintenance training where you can obtain all these advantages. The MAINTENANCE TRAINING CENTER is a division of OMNI Aviation Corporation, recognized by the Civil Aviation Authority of the Philippines as an Approved Training Organization (ATOC No. 96-098). Our objective is to provide Aircraft Maintenance Courses to aid aspiring Aircraft Mechanics (AMT) and Avionics Technicians (AVT), AMO Certifying Staff, and ATO-Maintenance School Instructors to hone their competency, knowledge, and potential through our Skill-Based program, boosting their visions towards their aviation careers.
OMNI Aviation will not only train you but also assist you in your license acquisition. We take pride in being the sole CAAP-approved Skill Test Facility in Region 3, along with having a CAAP Off-site Facility. With these training capabilities, OMNI can cater to the needs of aspiring aircraft mechanics and technicians and turn them from zero to pros. Ready to start your training? Reach out to OMNI Aviation today, and let's kickstart your career together.
Share This News